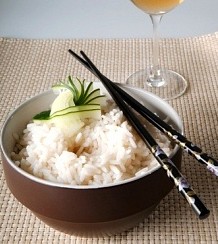 Simple and easy oven baked brown rice that comes out nice and fluffy, perfect every time.
Information:
4 Average Size Servings
Ingredients you will need:
1 1/2 c. long, medium or short-grain brown rice
2 1/3 c. water
2 tsp. unsalted butter or veg. oil
1/2 tsp. salt
Baked Brown Rice Cooking Directions:
1. Adjust oven rack to middle position and heat oven to 375 degrees. Spread the rice in an 8-inch square glass baking dish.
2. Bring the water and butter to a boil, covered, in a medium sauce pan over high heat; once boiling, immediately stir in the salt and pour over the rice. Cover the baking dish tightly with a double layer of foil. Bake rice one hour, until tender.
3. Remove the baking dish from the oven and uncover. Fluff the rice with a dinner fork, then cover the dish with a clean kitchen towel; let the rice stand five minutes. Uncover and let the rice stand five minutes longer; server immediately.
Category: Brown Rice Recipes, Recipes for Rice