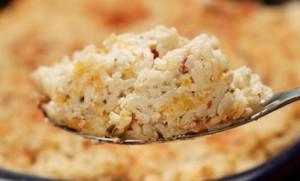 Try our version of the classic cheese and rice casserole. Your family will love it.
Information:
6 Average Size Servings
 Ingredients you will need:
1 c. cooked rice
1/2 lb. grated cheese
1 c. evaporated milk
4 tlb. soft butter
1/2 c. parsley flakes
1 sm. onion, grated
1 egg
 .
Mix ingredients and pour into a greased casserole.  Baked for 40 to 45  minutes in a 300 degree oven until browned on top.
Category: Recipes for Rice