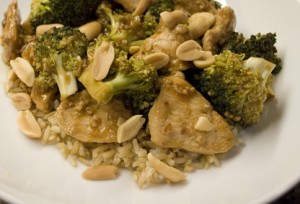 Here is an easy one pot recipe with brown rice, chicken and broccoli sure to please the entire family.
Information:
5 Average Size Servings
10 Grams of Fat
395 Calories per Serving
Ingredients you will need:
2 Tbsp olive oil
3 cups vegetable broth
1 1/2 cloves garlic (minced)
1 white medium sized onion (diced)
3 boneless chicken thighs (cut in cubes)
1 1/2 cups brown rice
1 cup mozzarella cheese
2 cups broccoli florets (halved)
2 tsp fresh oregano (finely chopped)
Optional: add 1/4 cup of peanuts or pine nuts (toasted), right before serving.
Chicken and Broccoli with Brown Rice Cooking Directions:
In a large skillet combine olive oil, onion and garlic and sauté for 4 minutes over medium heat stirring constantly.  Add cubed chicken and continue to sauté for 8 more minutes.  Add broth and rice, cook until boiling.  Once boiling turn to low and cover.  Cook for 15 minutes and then add broccoli, cook for 15 minutes or until all liquid is absorbed and rice is tender, fluff with fork and add cheese, oregano and pine nuts(optional).  Serve and enjoy.
Category: Brown Rice Recipes, Recipes for Rice