You will love this fast fried rice Recipe; it's just like the fried rice you get at your favorite oriental restaurant. A couple of eggs, rice, peas, carrots and soy sauce are all you need.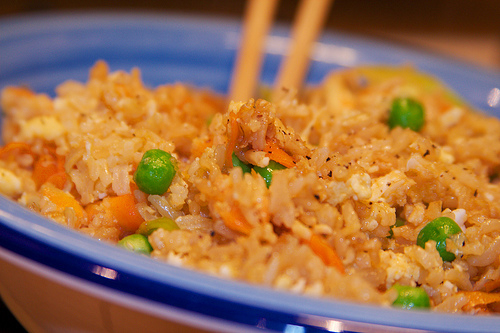 Information:
8 Average Size Servings
8 Grams of Fat
263 Calories per Serving
Ingredients you will need:
2 cups of long grain rice (jasmine rice is preferable) or 5 cups of cooked rice
4 cups water
¼ cup corn (optional)
1/2 cup frozen green peas
2/3 cup chopped baby carrots
2 tablespoons vegetable oil
Soy sauce, 1 to 2 tablespoons or to taste
2 eggs
Sesame seed oil, 1 to 2 tablespoons or to taste (optional)
Oyster sauce, 1 to 2 tablespoons or to taste (optional)
Fried Rice Cooking Directions:
In a large pot, combine the rice and water and bring to a boil. Reduce the heat cover, and simmer for 20 minutes. ( Skip this step if you are using leftover or precooked rice)
In a small pot, boil carrots in water about 3 to 5 minutes. Drop peas into water, then drain.
Heat the wok or pan over high heat. Pour in the oil, and then stir in peas and carrots. Cook for around 30 seconds. Crack eggs; stir quickly, scrambling the eggs into the vegetables. Stir in cooked rice. Add the soy sauce (and oyster sauce, optional), and stir until sauce covers the rice. Drizzle with sesame oil, and stir again.
Cooking Tips
Using leftover rice that has been refrigerated for 12 hours or more works bests.
You can easily add some shrimp or chicken to this recipe, just cut it in too small pieces and precook it in the wok or pan with the oil for 3 to 5 min before you stir in peas and carrots.
Category: Fried Rice Recipes, Recipes for Rice