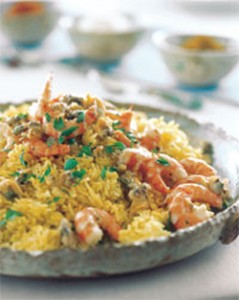 This Gamberi con Riso recipe is an Italian dish. It is a tasty mixture of shrimp, parmesan cheese, vegetables and rice that can be served as the main meal or side. It is also very easy to make, taking little time to prepare.
Information:
4 Average Size Servings
Ingredients you will need:
1/4 cup butter
1/2 cup grated parmesan cheese
2 tablespoons olive oil
½ teaspoon dried basil
1 teaspoon salt
½ teaspoon black pepper
3 3/4 cups boiling water
1 large onion, chopped
1 garlic clove, chopped
I medium-sized red pepper, chopped – take out seeds
4 oz. button mushrooms, chopped
2 cups Italian rice
12 oz. frozen shrimps, thawed – no shell
Gamberi con Riso Cooking Directions:
In a large frying pan, over high heat, melt half the butter with the olive oil. After the butter melts and the foam clears away, reduce to medium heat. Add the garlic, onion and red pepper. Stir occasionally and let them fry for 5 to 7 minutes, or until the onion is soft (not long enough to let the onion turn brown). Add the salt, pepper, mushrooms and basil. Stir occasionally and let cook for 5 minutes.
Reduce the heat to low and add the rice. Stir frequently for 5 minutes. Stir in the shrimps and let it cook for 1 minute. Add 1 ¼ cup of the boiling water. Make sure to bring the mixture back to a bubbling boil. Stir occasionally. After the water absorbs, add another 1 ¼ cup of the boiling water. Repeat until the rice is tender and moist but still firm.
Turn off heat. Stir in the remaining butter and parmesan cheese. Your meal is ready to be served.
Category: Recipes for Rice