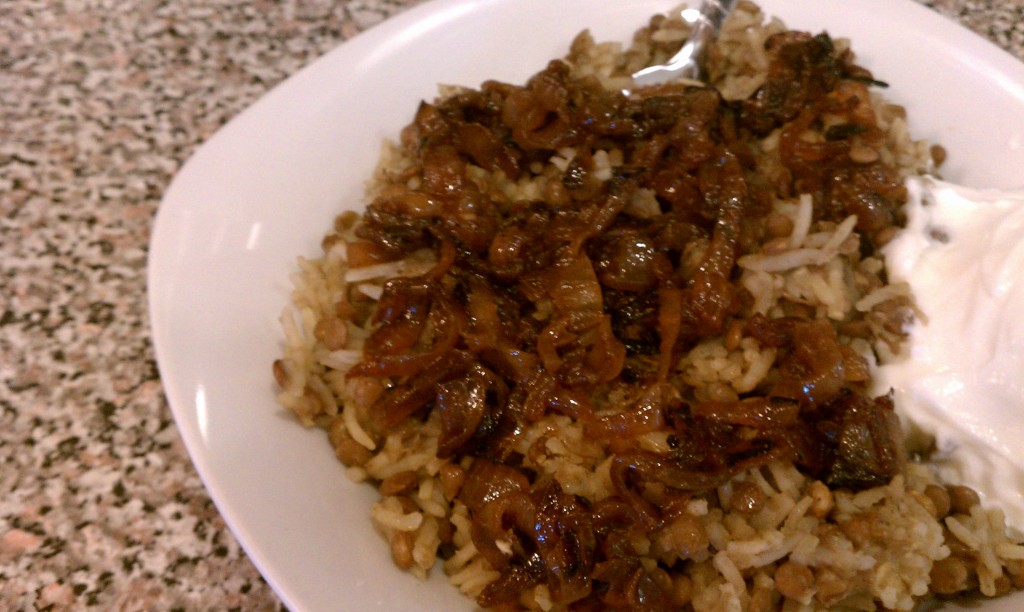 Enjoy this great tasting dish we call majedra with fried onions top a mixture of lentils and rice seasoned with cumin. One of our favorite meals and a special dish for vegetarians. Instead of placing the onion on top you can mix it along with the lentils and rice before serving. It makes a perfect meal with yogurt and a fresh salad.
Information:
6 Average Size Servings
Ingredients you will need:
2 c. brown  lentils
2  tbs olive oil
2 c.  rice
3 med. onions sliced
1 t.  cumin
1 tsp  salt
.
Lentils and Rice Recipe called Majedra Cooking Directions:
Sort and wash lentils. Place in a pot. Cover with water, add cumin and 1/2  tsp salt. Cook until done. Drain the lentils and reserve the liquid.
Rinse rice and add to lentils. Add 3 cups of water including the reserved  liquid, add 1 tbs of olive oil and 1/2 tsp of salt. Bring to boil and then lower  the heat to low. Cook until done. (about 20-30 min)
Heat oil in a skillet and brown the onions.
Place the rice and lentils in a serving platter and put onoins on top.  Serve with yogurt and salad.
.
Category: Mediterranean Recipes, Recipes for Rice