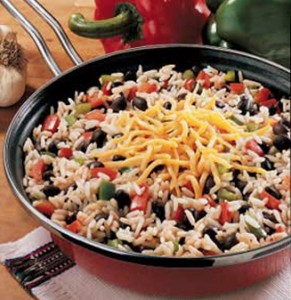 This recipe for black beans and rice is one of our family's favorite side dish. It's fast, easy and affordable. Everyone loves how it tastes and it's hard to believe it's good for you. The perfect dish!
Information:
4 Average Size Servings
2 Grams of Fat
175 Calories per Serving
Ingredients you will need:
1 sweet red pepper, chopped
1 onion, chopped
1 green pepper, chopped
1 garlic clove, minced
1/4 teaspoon black pepper
1/2 teaspoon dried basil
1 teaspoon of cumin
1/4 cup shredded Cheddar cheese
1 tablespoon tomato sauce or 1/3 cup of salsa
1 can black beans (15 ounce), rinsed and drained
1 cup cooked long-grain rice (optional, use ½ chicken stock and ½ water for preparing the rice.
1 tablespoon red wine vinegar
Salt to taste
Recipe for Black Beans and Rice Cooking Directions:
In large saucepan, sauté the onions, garlic, red and green peppers, basil and black pepper on medium to high heat until tender (3 to 5 min). Stir in the tomato sauce (or salsa). Add the beans, rice and vinegar; heat thoroughly on medium (5 to 8 min). Transfer to a serving dish; sprinkle with cheese.
Eat up!
Category: Recipes for Rice