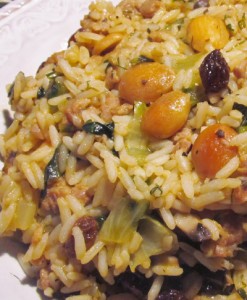 This recipe is great for those who love the combination of rice, pork sausage, vegetables, raisins and various seasoning. It is relatively easy to make and does not take a lot of time.
Information:
6 Average Size Servings
Ingredients you will need:
3 1/2 tablespoons sweet butter
1 teaspoon salt
1/4 teaspoon black pepper
4 leaves of green leaf lettuce, shredded
1 cup white rice
2 pork sausages, sliced
4 small mushrooms, sliced
3/4 cup onion, chopped
4 Roma tomatoes, diced
2 tablespoons raisins
1/2 cup peas
1 tablespoon pimento, diced
1 garlic clove, crushed
2 cups chicken broth
Greek Rice Cooking Directions:
In a small pan, over medium heat, sauté the raisins in 1/2 tablespoon of sweet butter until they turn soft. Remove from heat.
In a large pot, over medium heat, sauté the onion in 2 tablespoons of sweet butter until it starts to turn brown. Stir in the pork sausage, garlic, lettuce, Roma tomatoes, mushrooms and the rice. Mix it well.
Add the chicken broth. Stir in the salt and pepper, cover and let simmer over low heat for 20 minutes or until the liquid is absorbed. Once the liquid is absorbed, mix in 1 tablespoon of sweet butter with a fork, fluffing the rice in the process.
Add the peas, pimento and raisins. Mix well and serve.
Category: Recipes for Rice