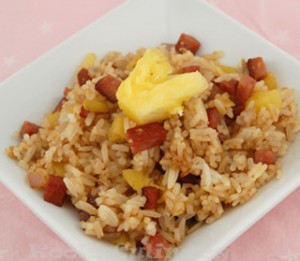 This recipe for rice combines the savory tastes of pork, sausage, eggs, pineapples, onions and rice into a tropical island style meal or side. It is easy to make and only takes a moderate amount of time.
Information:
5 Average Size Servings
Ingredients you will need:
1 can corned beef hash
1/2 cup pork sausage, sliced ( Precooked )
1 1/2 cups jasmine rice
1/2 cup green onion, chopped
3 cups water
1/4 teaspoon garlic powder
2 tablespoons and 2 teaspoons canola oil
3 eggs, beaten
1 can of pineapple chunks, drained
Hawaiian Fried Rice Cooking Directions:
In a medium pot, over high heat, bring the water and rice to a boil. Reduce heat to low. Cover and simmer for 20-25 minutes or until the rice is tender and the water is absorbed. Let rice cool.
In a medium pan, over medium heat, heat 2 teaspoons of canola oil and brown the corned beef hash. Set the corned beef hash aside. Pour the eggs into the pan, scramble them and set aside.
In a large pan, over medium heat, heat 2 tablespoons of canola oil and stir in the rice. With a folding motion, stir the rice into the hot oil for 2 minutes or until all the rice is coated and begins to brown. Stir in the garlic powder for roughly 1 minute to make sure the rice has a garlic taste. Add the corned beef hash, pork sausage, scrambled eggs and pineapple chunks. Cook for 2 or 3 minutes, stirring frequently.
Add the green onions and stir for 1 minute, then serve.
Category: Fried Rice Recipes, Recipes for Rice