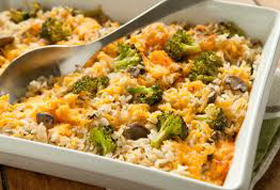 This recipe for rice does not take much effort or time to make. Simple, yet tasty, this dish will satisfy all who love broccoli, cheese, rice and vegetables. Great for a main dish or side.
Information:
8-9 Average Size Servings
Ingredients you will need:
2 small cans of condensed cream of mushroom soup
2 packages frozen broccoli, chopped
1 1/4 cups water
6 tablespoons Velveeta Cheese
1 tablespoon butter
3 cups instant rice
5 celery sticks, chopped
1 onion, chopped
1/2 teaspoon salt
1/4 teaspoon pepper
Rice and Broccoli Casserole Cooking Directions:
Preheat oven to 350 degrees.
Prepare the rice and broccoli according to their package directions.
In a medium pot, over low heat, stir the cream of mushroom soup and 1 1/4 cups water together until well mixed. Slowly stir in the Velveeta Cheese until melted.
In a large pan, over medium heat, melt the butter and sauté celery and onion until soft.
In a large mixing bowl, stir the rice into the soup and cheese mixture. Add celery and onion sauté, salt, pepper and the broccoli.
Put the mixture into a 9 x 13 inch casserole dish and bake in the preheated oven for 45 minutes or until the top is lightly brown.
Category: Recipes for Rice