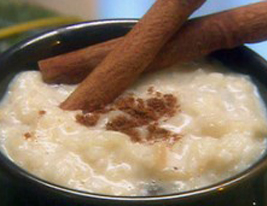 This recipe for rice pudding is a dessert is served as a festive dish on special occasions in Lebanon. It is easy to make, but requires some time and attention. Serve after main meal.
Information:
8 Average Size Servings
Ingredients:
Shredded coconut
5 cups cold water
1 1/4 cup granulated sugar
1/2 teaspoon powdered caraway seed
1/2 teaspoon powdered fennel seed
1/2 teaspoon powdered aniseed
2 teaspoons ground cinnamon
1 cup ground rice
Rice Pudding Cooking Directions:
Stir ground rice into one cup of the cold water, turning it into a paste. Add the sugar and stir. Set the coconut aside and stir in the remaining ingredients.
Bring the remaining 4 cups of water to a boil in a large saucepan. Once the water is boiling, gradually stir in the paste, stirring constantly until it boils again. Reduce heat to very low and let simmer for 1 hour, occasionally stirring.
Refrigerate and serve chilled. You can speed up the results by placing the pudding into serving dishes while refrigerating. Sprinkle the coconut over the top as desired after chilled.
Category: Dessert Recipes, Mediterranean Recipes, Recipes for Rice