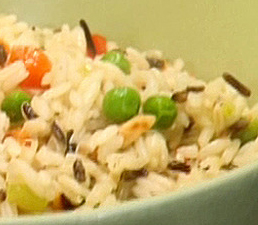 This recipe for rice is meant to be a main dish for a meal, but it makes a nice side as well. It is very easy to make and does not take very much time. If a warm salad with rice is something you like, this recipe should make you happy.
Information:
6 Average Size Servings
Ingredients you will need:
4 cups brown rice
1 small zucchini, chopped
2 celery stalks, chopped
1-5 tablespoons pimiento, diced
1 large tomato, chopped
6 green onions, chopped
1 green pepper, chopped
1 cup green peas
1/2 cup wine vinegar
1/4 cup parsley, chopped
1/4 teaspoon mustard powder
1 teaspoon tarragon
Rice Salad Cooking Directions:
In a large pot, cook brown rice according to the instructions on the package.
In a small pot, over medium heat, cook the green peas until they boil. Strain them then pour them into the rice.
Add all the remaining ingredients into the rice and peas, cover and let cook over low heat for 5 minutes or until the liquid is absorbed.
Remove from heat, cover and let steam for 10 minutes and then serve.
Category: Recipes for Rice