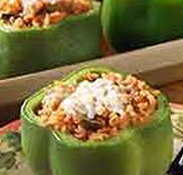 Bell peppers, ground beef, Worcestershire sauce, seasonings and rice. This recipe for rice stuffed peppers is mouth watering and delicious. It makes a great main dish.
Information:
6 Average Size Servings
Ingredients you will need:
6 green bell peppers
1 lb ground beef
1 tablespoon Worcestershire sauce
1/4 teaspoon onion powder
1 teaspoon Italian seasoning
1/4 teaspoon garlic powder
2 cans tomato sauce (8 oz)
1/2 cup white rice
1 cup water
salt and pepper to taste
Rice Stuffed Peppers Cooking Directions:
Preheat oven to 350 degrees.
In a medium pot, over high heat, bring the water to a boil. Add the rice, reduce heat to medium-low, cover and let simmer for 20 minutes or until all the water is absorbed. Remove from heat and set aside for now.
In a large pan, cook the beef until it has all browned.
Cut the tops off of the bell peppers, remove the seeds and arrange them in a deep baking dish with the open ends up.
In a large mixing bowl, mix the cooked beef with the cooked rice. Add 1 can of tomato sauce, the garlic, the salt and pepper, the onion powder, and the Worcestershire sauce and stir until it is well mixed.
Spoon the mixture into each of the hollowed peppers.
In a large bowl, mix 1 can of tomato sauce with the Italian seasoning then pour 1/4 over the stuffed peppers, saving the remaining 3/4  for later.
Place the stuffed pepper dish into the preheated oven and bake for 1 hour, while basting the peppers with more of the tomato sauce and Italian seasoning every 15 minutes. Do this until the peppers are nice and tender.
Category: Recipes for Rice