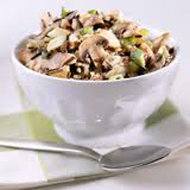 This recipe for rice stuffing is a great substitute for box bought stuffing.  It is a delightful mix of breads, vegetables, seasoning and rice that is great for any occasion. This dish takes little effort and time.
Information:
8 Average Size Servings
Ingredients you will need:
2/3 cup water, hot
7 slices of lightly toasted bread, torn
1 cup corn bread, torn
1 egg, beaten
1/2 cup onion, chopped
1 cup fresh spinach, chopped
1/2 cup celery, sliced
1/2 cup mushrooms, fresh and sliced
1 tablespoon vegetable oil
1/2 teaspoon dried thyme
1/2 teaspoon salt
1/4 teaspoon pepper
2 teaspoons rubbed sage
1/4 teaspoon sugar
1 cup long-grain rice, cooked
1/2 cup wild rice, cooked
Rice Stuffing Cooking Directions:
In a large mixing bowl, mix the toast, corn bread and water in a tossing motion to absorb the water. Set aside and let soak.
Preheat oven to 350 degrees.
In a large pan, over medium heat, add the vegetable oil and let it get hot. Add the onion, celery and mushrooms and sauté, stirring constantly, until the vegetables are tender.
Stir the sauté into the large mixing bowl with the bread and water. Stir the cooked long-grain rice, cooked wild rice, sugar, sage, pepper, salt, thyme, spinach and beaten egg (all the remaining ingredients) into the large mixing bowl.
Grease a large baking or casserole dish and place the mixture into it. Cover with foil and bake it in the oven at 350 degrees for 30 minutes.
Category: Recipes for Rice