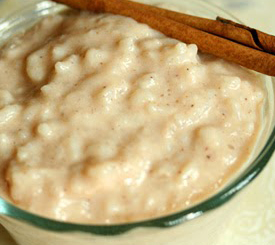 This comforting dessert is a wonderful way to end any meal. As a girl, I always waited eagerly for the first heavenly bite. Enjoy, and be sure to let me know what you think!! Can also be prepared without the cinnamon, and you also can add raisins at the end. It's all up to you!!
Information:
4 Average Size Servings
Ingredients you will need:
1/2 cup instant rice
2 cups milk
2 tablespoons cinnamon
1/3 cup pecans, chopped
1 can crushed pineapple (15 oz can preferred)
1 package vanilla pudding mix (3 oz package, not the instant type)
1/2 cup mini marshmallows
Rice Vanilla Puff Pineapple Crunch Cooking Directions:
Drain the juice out of the can of crushed pineapple into a measuring cup until you get 3/4 cup. Pour 3/4 cup of the pineapple juice into a medium pot and bring it to a boil. Add the instant rice and let simmer on low heat for 2 minutes.
Remove the pot from heat, cover the rice and let it steam for 5 minutes.
Look for the directions on your pudding package and in a large pot, cook the pudding accordingly. Once it is done, remove from heat and add the mini marshmallows to the hot pudding (fold the pudding over the mallows).
Stir the pecans, strained pineapples and rice mixture into the pudding. Refrigerate and serve cold with dash of cinnamon.
Category: Dessert Recipes, Recipes for Rice