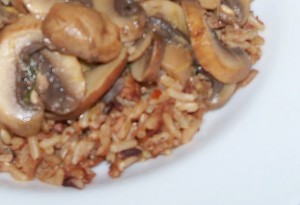 This recipe for rice is very simple and takes little time to prepare. This dish makes a great side to any meal and is perfect for those who love mushrooms, rice and beef stock.
Information:
4-5 Average Size Servings
Ingredients you will need:
2 cups water
1 cup white rice
1/4 cup beef stock
2 tablespoons butter
8 oz baby portabella mushrooms, chopped
1 teaspoon salt
Black pepper to taste
Rice with Mushroom Cooking Directions:
Preheat oven to 350 degrees.
In a medium pot, over high heat, bring the water, salt and rice to a boil.
Reduce heat to low and cover. Cook for 15 minutes or until the water is absorbed. Remove from heat and set aside.
In a large pan, over medium heat, sauté the mushrooms in the butter for 3 minutes or until the mushrooms are soft.
Add the beef stock into the mushrooms and butter. Add the rice and stir.
Using non stick cooking spray, or butter, or grease of some sort, coat a casserole dish and place the rice mixture into it. Bake in preheated oven for 30 minutes. Let rice cool, and then serve.
Category: Recipes for Rice