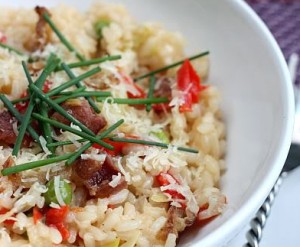 Risotto with Leeks and Bacon is an Italian dish. It is a tasty mixture of rice, bacon, vegetables, chicken stock and spices that can be served as the main meal or side. It is also very easy to make, taking little time to prepare.
Information:
4 Average Size Servings
Ingredients you will need:
1 lb. or 2 2/3 cups long-grain rice – soak in cold water for 30 minutes then drain
1 lb. chopped bacon
14 oz. canned, peeled tomatoes
3 teaspoon of vegetable oil
3 3/4 cups chicken stock
4 leeks, cleaned and chopped
1 teaspoon salt
1/2 teaspoon ground cumin
1 teaspoon black pepper
1 teaspoon cayenne pepper
1 teaspoon grated lemon rind
Risotto with Leeks and Bacon Cooking Directions:
In a medium frying pan, fry the bacon over moderate heat for 6 to 8 minutes or until most of the fat is gone and it is crisp and brown. Remove the bacon and set aside for now.
Add the vegetable oil and heat over medium heat. After it gets hot, add the leeks and fry them for 12 minutes, stirring occasionally.
Stir in the rice and fry for 5 minutes, stirring frequently.
Stir in the canned tomatoes (even the juice in the can), grated lemon rind, cumin, cayenne pepper, salt and black pepper. Pour in the chicken stock and bring to a boil.
Add the bacon back into the mix, then reduce heat to low and let simmer for 15-20 minutes or until the rice is cooked and tender and the liquid is absorbed. Let the mixture cool down for 5 minutes then serve.
Category: Recipes for Rice, Risotto Recipes