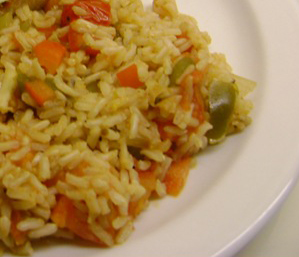 This recipe for rice is a great side dish. It combines the tastes of rice, curry powder, mushrooms and salsa. It is very simple to make and takes next to no time.
Information:
5-6 Average Size Servings
Ingredients you will need:
1 cup rice
2 cups water
1 chopped cooking onion
1/2 cup bok choy, diced (Chinese cabbage)
1/2 cup mushrooms
2/3 cup salsa
1/2 teaspoon curry powder
Salsa Rice Cooking Directions:
In a large pot, over medium heat, bring the water to a boil. Add rice, bok choy, onions and mushrooms and stir.
When the liquid absorbs and rice starts to dry out, stir the salsa into the mix and then serve.
Category: Mexican Rice Recipes, Recipes for Rice