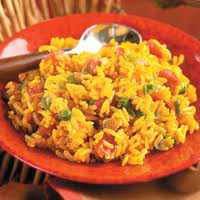 This is a wonderful recipe for Spanish rice it works great as a  side dish for any Mexican dinner, but if you want to make a main dish from this rice recipe you can very easily.  Simply add 1 pound cooked ground beef or shredded chicken to the Spanish rice recipe to make a full meal.
Information:
6 Average Size Servings
8 Grams Of Fat
322 Calories Per Serving
Ingredients you will need:
1 Onion Chopped Well
1 Can Cut Tomato's, 28oz.
1 Green Pepper Finally Chopped
6 Bacon Slices
1 Cup Water
3/4 Cup Long Grain Rice
1 Tablespoon Brown Sugar
5 Drops Hot Sauce
1 Tablespoon Worcestershire Sauce
1 Pinch Fresh Ground Pepper
1 Teaspoon Salt + 1 Teaspoon Chili Powder
Spanish Rice Cooking Directions:
In a large skillet cook bacon to it is will done. Lay the bacon on a  paper towels to drain. Crumble the bacon and set it  aside for later. Save 2 tablespoons of bacon drippings and add the  finally chopped onion and finally chopped green pepper, cook until tender but still crispy. Stir in the can of tomatoes with juice, cold water, long grain rice, brown sugar, Worcestershire sauce, salt, chili powder, pepper and hot sauce.  Reduce heat to low, cover with a tight fitting lid, simmer 30 minutes until rice is done. Top with bacon.
Category: Mexican Rice Recipes, Recipes for Rice