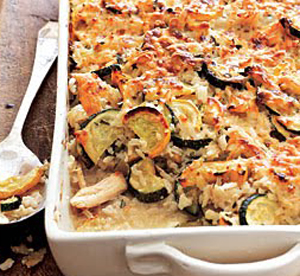 Here's a creative and unusual recipe for rice called Zucchini and Rice Casserole with Yellow Squash its one of my grandmother's favorites. It combines zucchini, yellow squash and rice with Cheddar cheese, spices and tomatoes. Serve with a French bread or soft bread sticks.
Information:
6 Average Size Servings
17 Grams of Fat
268 Calories per Serving
Ingredients you will need:
1/3 cup uncooked long grain white rice
2/3 cup water
3/4 pounds of cubed zucchini
3/4 pounds of cubed yellow squash
1 1/2 cups of chopped tomatoes
2 tablespoons vegetable oil
1 cup sliced green onions
1 clove of garlic, minced
1/2 teaspoon basil
1/2 teaspoon oregano
1/2 teaspoon paprika
1 1/4 teaspoons garlic salt
2 cups of shredded sharp Cheddar cheese
Zucchini and Rice Casserole with Yellow Squash Cooking Directions:
Add the water and rice in a pot, and bring to a boil. Cover and simmer at low heat for 20 minutes or until rice is done.
Preheat oven to 350 degrees. Lightly grease a medium sized casserole dish.
Heat the oil in a nonstick pan over medium heat, and cook the yellow squash, zucchini, green onions, and garlic for 4 to 5 minutes, or until tender. Add the basil, garlic salt, oregano and paprika. Stir in the cooked rice, tomatoes, and 1 cup of the cheese. Continue to cook on medium to low and stir until heated through. Transfer to the prepared casserole dish. Top with remaining cheese.
Bake it in the oven at 350 degrees, uncovered for 20 minutes or until cheese is melted.
You might want to put a cookie sheet or something under this dish as it bakes, because it sometimes bubbles over =)
Category: Recipes for Rice