Rice Facts & Information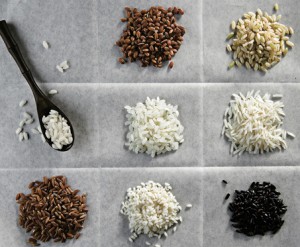 There are many varieties of rice; for many purposes the main distinction is between long, medium, and short-grain rice. The grains of long-grain rice (high amylose) tend to remain intact after cooking; medium-grain rice (high amylopectin) becomes stickier. Medium grain rice is used for sweet dishes, for risotto in Italy and many rice dishes, such as arròs negre, in Spain. Stickier medium-grain rice is used for sushi; the stickiness lets the rice be molded into a solid shape. Short-grain rice is often used for rice pudding.
Rice is cooked by boiling or steaming, and absorbs water during cooking. It can be cooked in just as much water as it absorbs (the absorption method), or in a large quantity of water which is drained before serving (the rapid-boil method). Electric rice cookers, popular in Asia and Latin America, simplify the process of cooking rice. Rice (or any other grain) is sometimes quickly fried in oil or fat before boiling (for example saffron rice or risotto); this makes the cooked rice less sticky, and is a cooking style commonly called pilaf by American chefs or biryani (Dam-pukhtak) in India, Pakistan, and Iran.
In Arab cuisine, rice is an ingredient of many soups and dishes with fish, poultry, and other types of meat. It is also used to stuff vegetables or is wrapped in grape leaves (dolma). When combined with milk, sugar, and honey, it is used to make desserts. In some regions, such as Tabaristan, bread is made using rice flour. Medieval Islamic texts spoke of medical uses for the plant.
Rice may also be made into congee (also called rice porridge, fawrclaab, okayu, Xifan, jook, or rice gruel) by adding more water than usual, so that the cooked rice is saturated with water, usually to the point that it disintegrates. Rice porridge is commonly eaten as a breakfast food, and is also a traditional food for the sick.
Rice may be soaked prior to cooking, which saves fuel, decreases cooking time, minimizes exposure to high temperature and thus decreases the stickiness of the rice. For some varieties, soaking improves the texture of the cooked rice by increasing expansion of the grains.
Instant rice differs from parboiled rice in that it is milled, fully cooked and then dried. There is a significant degradation in taste and texture.
A nutritionally superior method of preparing brown rice known as GABA Rice or GBR (Germinated Brown Rice) may be used. This involves soaking washed brown rice for 20 hours in warm water (38 °C or 100 °F) prior to cooking it. This stimulates germination, which activates various enzymes in the rice. By this method, a result of research carried out for the United Nations International Year of Rice, it is possible to obtain a more complete amino acid profile, including GABA.
Cooked rice can contain Bacillus cereus spores, which produce an emetic toxin when left at 4–60 °C (39–140 °F). When storing cooked rice for use the next day, rapid cooling is advised to reduce the risk of toxin production. One of the enterotoxins produced by bacillus cereus is heat-resistant; reheating contaminated rice kills the bacteria, but does not destroy the toxin already present.
Rice is the staple food of over half the world's population. It is the predominant dietary energy source for 17 countries in Asia and the pacific, 9 countries in North and South America and 8 countries in Africa. Rice provides 20 percent of the world's dietary energy supply, while wheat supplies 19 percent and maize 5 percent.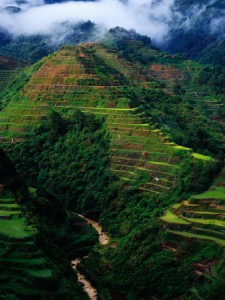 The Banaue Rice Terraces are 2000-year old terraces that were carved into the mountains of Ifugao in the Philippines by ancestors of the indigenous people. The Rice Terraces are commonly referred to by Filipinos as the "Eighth Wonder of the World". It is commonly thought that the terraces were built with minimal equipment, largely by hand. The terraces are located approximately 1500 meters (5000 ft) above sea level and cover 10,360 square kilometers (about 4000 square miles) of mountainside. They are fed by an ancient irrigation system from the rainforests above the terraces. It is said that if the steps are put end to end it would encircle half the globe.
Locals to this day still plant rice and vegetables on the terraces, although more and more younger Ifugaos do not find farming appealing, often opting for the more lucrative hospitality industry generated by the Rice Terraces [citation needed]. The result is the gradual erosion of the characteristic "steps", which need constant reconstruction and care. In 2010 a further problem was drought, with the terraces drying up completely in March of that year.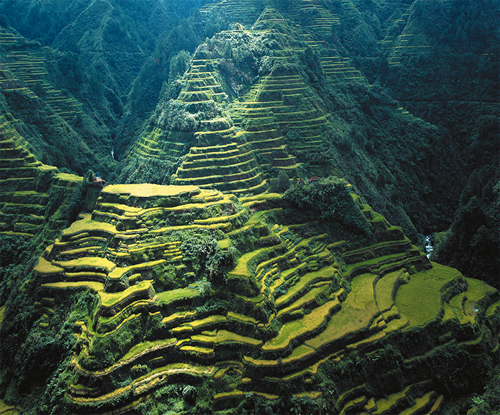 In March 2009 the Ifugao rice terraces were declared free from Genetically Modified Organism (GMO).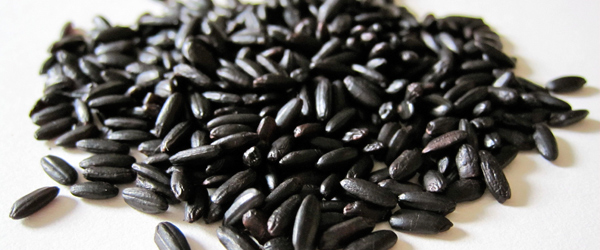 Black rice, also known as purple rice or forbidden rice is a kind of sticky rice which is one of several black colored heirloom plants producing rice variants such as Indonesian black rice and Thai jasmine black rice. Black rice is high in nutritional value and contains 18 amino acids, iron, zinc, copper, carotene, anthocyanin and several important vitamins. The grain has a similar amount of fiber to brown rice and like brown rice, has a mild, nutty taste. In China, black rice is claimed to be good for the kidney, stomach and liver; these claims have not been independently verified or established.
It is a deep black color and turns deep purple when cooked. Its dark purple color is primarily due to its anthocyanin content, which is higher by weight than that of other colored grains but more limited in the number of different anthocyanin species present. It is suitable for making porridge and it can also be used for making dessert, traditional Chinese black rice cake, bread and so on.
Thai jasmine black rice is grown in Thailand. Jasmine rice gets its name for the fragrant jasmine scent it produces while being cooked. Black jasmine rice, while not as prevalent as the white and brown varieties, adds more vibrant color to meals, but it also provides additional health benefits.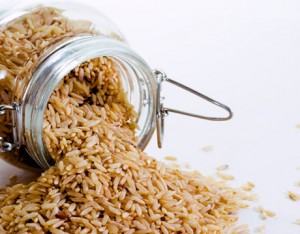 Brown rice (or "hulled rice") not milled or partly milled rice, is a kind of whole, natural grain. It has a mild nutty flavor, is chewier and more nutritious than white rice, but goes rancid more quickly because the germ—which is removed to make white rice—contains fats that can spoil. Any rice, including long-grain, short-grain, or sticky rice, may be eaten as brown rice.
In much of Asia, brown rice is associated with poverty and wartime shortages, and in the past was rarely eaten except by the sick, the elderly and as a cure for constipation. This traditionally denigrated kind of rice is often now more expensive than common white rice, partly due to its relatively low supply and difficulty of storage and transport.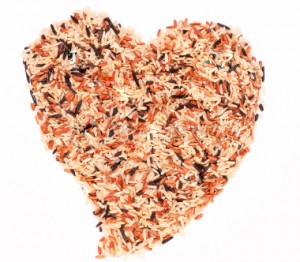 The name wild rice is usually used for species of the grass genus Zizania, both wild and domesticated, although the term may also be used for primitive or uncultivated varieties of Oryza.
Did you know the word rice derives from the Old French ris, which comes from Italian riso, in turn from the Latin oriza, which derives from the Greek ὄρυζα (oruza).
Raw rice may be ground into flour for many uses, including making many kinds of beverages such as amazake, horchata, rice milk, and rice wine. Rice flour does not contain gluten and is suitable for people on a gluten-free diet. Rice may also be made into various types of noodles. Raw, wild, or brown rice may also be consumed by raw-foodist or fruitarians if soaked and sprouted (usually 1 week to 30 days).