Chinese fried rice has always been a favorite comfort dish of mine. After a lot experimenting in the kitchen, here's an easy and wonderfully flavorful Chinese fried rice recipe. It's so simple that even novice cooks can prepare this easy recipe without difficulty.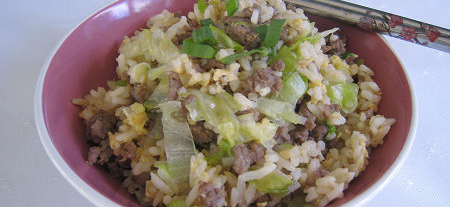 Prep time:
Cook time:
Total time:
A delicious way to add Chinese flare to a dish with beef and rice!
Ingredients
1⅓ cups uncooked rice
¼ cup salad oil
1 tbsp salt
3 cups boiling water
2 beef bouillon cubes
1 tbsp plus 1 tsp soy sauce
2 medium onions, chopped
4 stalks celery, chopped
2 green peppers, chopped
3 cups diced, cooked beef
Instructions
In a large skillet, cook and stir rice in oil over medium heat until golden brown.
Add salt, water, bouillon cubes, and soy sauce.
Cover tightly.
Simmer 20 minutes.
Stir in onion, celery, green pepper, and meat.
Cover tightly; simmer 10 minutes longer or until all liquid is absorbed and rice is tender.
Enjoy!
Category: Fried Rice Recipes, Recipes for Rice