This is a very authentic Mediterranean dish that was given to me by my grandmother. Delicious and healthy at the same time, it is bursting with flavor. The combination of the ingredients give it a very unique and one-of-a-kind taste, which your whole family is sure to take delight in. I recommend serving it with yogurt and a side salad.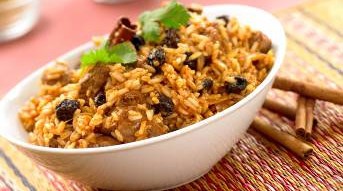 Lamb Recipe with Brown Rice, Raisins and Almonds
Prep time:
Cook time:
Total time:
The lovely mixture of spices, raisins and almonds in this lamb recipe offer a delicious treat that is sure to please the pallet. It is best served with yogurt and a side salad.
Ingredients
1 cup Brown Rice
1 lb lamb, cubed (3/4 inch cubes)
2 tbsp olive oil
2 onions, chopped
4 cloves garlic, or more if you like garlic
1 tsp salt
1 tsp cumin
1 tsp ginger
1 tsp paprika
1 tsp turmeric
¼ tsp cinnamon
1 cup dry wine
1¾ cups water or vegetable stock
6 olives, finely chopped
4 tbsp raisins
1 tbsp lemon zest
4 teaspoons toasted slivered almonds
Instructions
Trim the fat from the meat, then salt and pepper. In a heavy skillet, heat olive oil and brown the lamb with ½ the onions. Then set aside.
In the same pan with the juices/oils, add garlic, rice, cinnamon, ginger, turmeric, salt, paprika, and onions. Simmer for 5 minutes or less, stirring frequently.
Add water, lamb, and wine, bring to a boil, and stir frequently.
This is traditionally switched to a casserole dish and baked (covered) at 370 for 45-50 minutes. Another option is to cook this on the stove top, once boiling, reduce heat to low, and cover. Continue to cook for 40 minutes, stirring every so often.
Add almonds, lemon zest, raisins and olives to the top and bake, or continue to cook for another 5-10 minutes uncovered.
Turn off heat, recover, and let sit for 5-10 more minutes before serving. Enjoy!
Nutrition Information
Serve size:
1½ cups
Fat:
na
Protein:
na
Cholesterol:
na
Category: Brown Rice Recipes, Mediterranean Recipes, Recipes for Rice