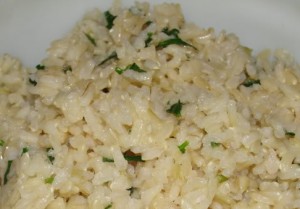 For those of you who love cilantro, lime and rice, this recipe for rice will satisfy in a big way. It is very easy to make and requires very little attention. Great as a side dish.
Information:
4 Average Size Servings
Ingredients you will need:
1 tablespoon canola oil
2 teaspoons fresh cilantro, chopped
1 fresh key lime
1/2 tsp salt
1 cup long grain white rice
2 cups water
Rice with Chipotle and Lime Cooking Directions:
In a large pan (that has a way to be covered), over high heat, sauté the rice in the canola oil until the oil completely coats the rice and the rice is almost translucent. Add the water and bring it to a boil.
Set heat to low, cover and let simmer for 20 minutes or until the water is absorbed.
Remove from heat and leave covered for 30 minutes. This steams the rice and makes it fluffy.
While the rice steams, mix the salt and juice from the key lime together in a small bowl until the salt is dissolved.
After the rice has steamed for 30 minutes, remove the lid and pour the key lime juice mixture over the rice and fluff with a fork to mix it in. Sprinkle the cilantro into the rice and fold the rice over itself to mix everything together. Serve now or apply low heat for 3 minutes and then serve.
Category: Mexican Rice Recipes, Recipes for Rice