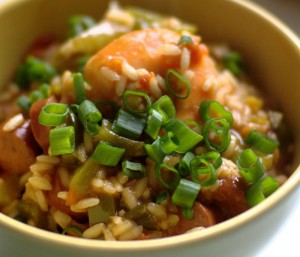 Jambalaya is a tasty combination of shrimp, meat, rice and vegetables. It makes a great main course meal. This meal is not hard to make and does not take a lot of time.
Information:
4 Average Size Servings
Ingredients you will need:
8 oz. chopped, cooked chicken meat
3 chopped bacon slices
8 oz. cooked shrimps, without shells
4 oz. cooked ham
1 tablespoon vegetable oil
1 chopped medium-sized onion
1 large green pepper, seeded and chopped
2 chopped celery stalks
14 oz. canned, peeled tomatoes
2 cups long-grain rice, soak in cold water for 30 minutes then drain
2 1/2 cups chicken stock
1/2 teaspoon salt
1/2 teaspoon ground black pepper
1/8 teaspoon cayenne pepper
I bay leaf
1 tablespoon chopped parsley
Jambalaya Cooking Directions:
In a large frying pan, heat the vegetable oil over medium heat. Once the oil gets hot, add and fry the bacon for 6 minutes or until crisp, stirring occasionally. Remove the bacon from the pan and drain on kitchen paper towels. Set the bacon aside.
Fry the onion to the frying pan and cook for 8 minutes or until it browns, stirring occasionally. Stir in the celery, then the rice. Stir constantly for 3 minutes or until the rice is well coated with the fat. Stir in the chicken stock. Add the salt, bay leaf, cayenne and pepper. Reduce heat to low, cover and let simmer for 10 minutes.
Stir in the green pepper and tomatoes (including the juice from the can). Cover and let simmer for 5 minutes.
Stir in the bacon, chicken, ham and shrimp. Cover and cook 5 minutes or until the rice is tender. Place the Jambalaya into a large serving dish and sprinkle the parsley over it. It is now ready to serve.
Category: Recipes for Rice