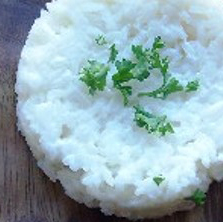 This recipe for rice is very easy to make and takes very little time. It goes great as a side for meals that have meat as a main dish. If you love rice and coconut, this will be very satisfying.
Information:
8-10 Average Size Servings
Ingredients you will need:
2 1/2 cup water
1 1/2 cup canned coconut milk
2 cup long grain rice
Rice with Coconut Cooking Directions:
In a medium pot, over medium heat, add the water and coconut milk, cover and bring to a boil.
Add the rice and let the liquid come to a boil again.
Reduce heat to low, cover and let simmer for 20 minutes or until all the liquid gets absorbed.
Category: Recipes for Rice