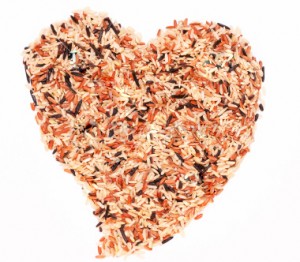 I got this recipe from the mother of one of my old friend many years ago and filed it away, I found it one night by accident and made it for dinner. Now it's a staple that I often serve with chicken, beef, pork…or even fish.
Information:
8 Average Size Servings
Ingredients you will need:
1/2 teaspoon basil
1/8 teaspoon pepper
1/2 teaspoon cumin
5 cups water
2 celery sticks, chopped
2 garlic cloves, finely chopped
1 cup peas
2 cups brown rice
2 tablespoons chicken stock
1 tablespoon soy sauce, low sodium
Savory Brown Rice Cooking Directions:
In a large pot, over high heat, bring the water and rice to a boil.
Reduce heat to medium, add all remaining ingredients and let cook for 5 minutes, stirring frequently.
Reduce heat to low, cover and let simmer until the liquid has been absorbed. Let stand for 10 minutes, fluff with fork and then serve.
Category: Brown Rice Recipes, Recipes for Rice