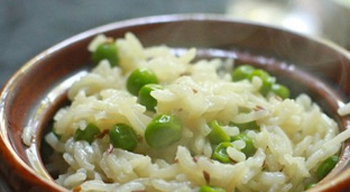 This is very easy rice and peas recipe which combines two of my family's favorite foods. The ingredients may be simple, but the colorful combination is unbeatable. Works great as a side dish, or for those picky kids who don't like their peas.
Information:
4 Average Size Servings
Ingredients you will need:
3 tablespoons olive oil
1 cup basmati rice
3/4 chicken bouillon
½ teaspoon pepper
½ of a sweet onion, chopped
2 cups water
1 cup frozen baby peas or fresh peas
1 medium carrot, shredded (optional) Add some color
Rice and Peas Recipe – Cooking Directions:
Heat the oil in a medium saucepan over low heat. Add the onions, stirring constantly, about 5 minutes. Add the rice and continue to cook for 3 to 5 more minutes. Add the water, chicken bouillon, pepper, stir, cover, and cook over low heat for 15 minutes until rice is almost done. Stir in the peas, cook for 5 to 7 more minutes, turn off the heat, and let sit covered for 5 minutes. Fluff with a fork and serve.
Category: Recipes for Rice