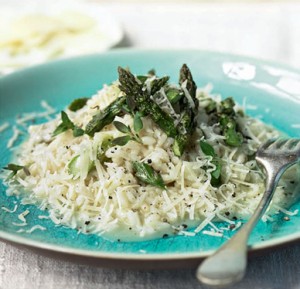 This classic Italian risotto and asparagus dish can be served as a low fat main course with salad or as a satisfying side dish. It is also good served cold, and packs well for picnics.
Information:
10 Average Size Servings
Ingredients you will need:
3 cups uncooked Arborio rice
7 1/2 cups chicken broth
1 pound asparagus, trimmed and cut into 2-inch pieces
1/2 cup finely chopped onion
2 finely chopped Garlic cloves  (optional)
1 cup dry white wine
1/4 cup grated Parmesan cheese
1 tablespoon butter
Salt and pepper to taste
1/4 cup olive oil
Risotto and Asparagus Cooking Directions:
Place asparagus in a large skillet; add 1/2 in. of water. Bring to a boil. Reduce heat; cover and simmer for 3 minutes or until crisp-tender. Drain and set aside.
In a large skillet, bring broth to a boil. Reduce heat; cover and maintain at a simmer. In a large heavy skillet add the onions (added some garlic, optional) in olive oil over medium heat until tender. Add rice and stir well; cook 3 minutes longer. Add wine and cook until absorbed.
Stir in 1 cup simmering broth. Cook until broth is almost completely absorbed, stirring frequently, and then add another cup of simmering broth. Repeat until only about 1/4 cup of broth remains (discard remaining broth); the process should take about 20 minutes. Rice should be slightly firm in center and look creamy.
Add asparagus; heat through. Remove from the heat; add the Parmesan cheese, butter, salt and pepper.
Serve immediately.
Category: Recipes for Rice, Risotto Recipes