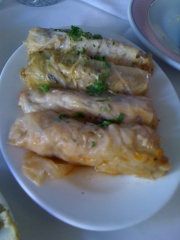 Learn how to make this wonderful and traditional Mediterranean rice dish at home. This Stuffed Cabbage Leaves Recipe is also known as Malfouf or Malfoof.  A piece of steak or lamb chops can be fried and placed at the bottom of the pan of either stuffed cabbage or grape leaves with the roles on top for a complete meal.

Prep time:
Cook time:
Total time:
Here is a wonderful and traditional Mediterranean dish called Stuffed Cabbage Leaves is also known as Malfouf or Malfoof.
Ingredients
One head of cabbage
Several cloves of garlic, sliced
dried mint
Juice of two lemons
Stuffing:
1 cup ground mutton or beef
1 cup, short grained rice
1 teaspoon shortening or butter
½ tsp. cinnamon
½ tsp. salt
½ tsp. pepper
Instructions
Separate cabbage leaves from base, blanch leaves in boiling water. Halve leaves and cut off core so leaves are flat. Fill, rolled and squeeze. place in pan and sprinkle with dried mint and sliced garlic. Add a little water; place the plate on top of the stuffed cabbage leaves and add a little more water. Boil until tender, about 45 minutes. Add lemon juice and cook for 10 more minutes.
Category: Mediterranean Recipes, Recipes for Rice