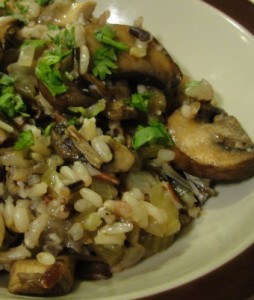 This wild rice recipe was given to me by a friend, and it has been a family tradition ever since. This hearty rice side dish has green onions, mushrooms and is seasoned with garlic, thyme and rosemary so it complements nearly any entree.
Information:
10 Average Size Servings
Ingredients you will need:
2 1/2 cups water
3 1/2 cups chicken broth
2 cups wild rice
1/2 teaspoon dried thyme
1/2 teaspoon pepper
1/2 teaspoon salt
1/4 teaspoon dried rosemary, crushed
1 pound fresh mushrooms, sliced
1/2 cup sliced green onions
2 garlic cloves, minced
4 teaspoons olive oil
Wild Rice Recipe – Cooking Directions:
In a large pot, bring broth and water to a boil. Add the rice, thyme, rosemary, salt and pepper. Reduce the heat, cover and simmer for 60 minutes or until rice is tender, drain.
In a large skillet add the green onions, mushrooms and garlic in olive oil, sauté for 10 minutes or so. Add the rice; heat through.
Category: Recipes for Rice, Wild Rice Recipes